We call it "TAC" – the Test Center where you can buy Testing as a Service
W offer "testing on tap" so that you can focus on your core business.
Lemontree can provide you as a customer with access to testing when you need it, to the extent you need it. On site or remote.
Often there is a need to scale up the testing when required, but without dedicating resources for testing. Our TAC Center, consisting of consultants, is always available for scheduling test services when needed.
But testing on demand
Scale up of resources
Technology support
The services can be bought per the hour, with a subscription plan or via previously planned releases.
TAC suits you who, like so many others, work with manual testing today or have automated testing with maintenance issues or have difficulties keeping adequate competence in-house. Perhaps you don't have time to run the most importans regression tests at all, meaning testing the current functionality.
Herein lies great opportunities for TAC to substantially enhance effectiveness and thereby the quality of your testing. This without the need for you to make great capital investments or hire new competence yourselves.
We can offer Testing as a Service through the TAC (Test Automation Center). On top of the actual testing we can also offer guidance in difficult decisions such as architecture, which software to chose or technical trends in the business.
TAC in Short
Depending on your needs, TAC can for example offer this:
Specialist support in testing, strategies, technology support for your organization.
Technical support – automation solutions
Development – maintenance and test execution
Proof of Concepts of your environments and that which you need to test
Established frameworks and technologies if you don't already have a test infrastructure setup that you wish to use
Education and workshops in testing and a multitude of tools
External environment monitoring on how testing is performed, with tips and feedback for your organization on how to work as effective as possible
Complete concept in Quality Assurance for maintenance of test infrastructure
Consultants testing on site or if preferred remote presence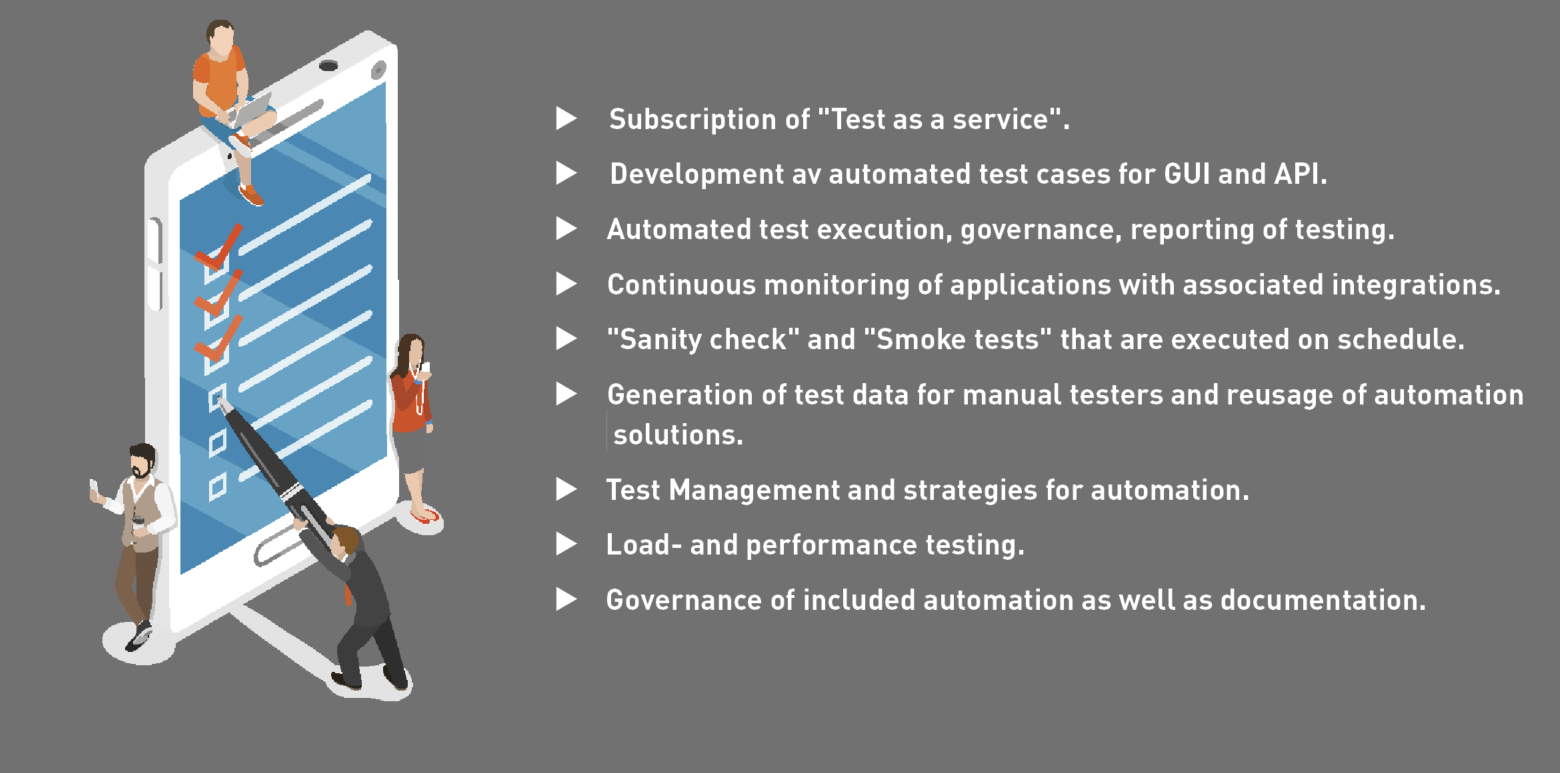 Contact Patric Helje, patric.helje@lemontree.se for more information.